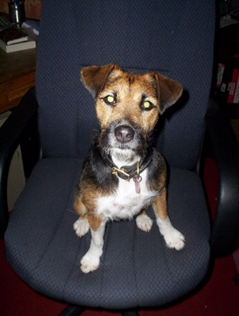 was a Border Terrier cross Jack Russell with a bit of Parson Russell thrown in, giving her lovely long legs.  She's the only dog we had had who was not a rescue.  She was family bred, eager to please, cooperative and delightful.  We taught each other so much and she was an asset to the collective
The proudest moment in my entire life was when my daughter Ester and our terrier Daisy performed in the 'try outs' for the BBC children's show Who Let the Dogs Out?  The celebrity trainer Zak George (who was an absolute love) had a grunty pig toy that Daisy really wanted.  Without anything being said, Zak handed the toy to Ester and Daisy did the weave poles to earn a play with the coveted grunty pig.
Out of 80 child and dog teams that got through the 'try outs', Ester and Daisy made it through to the first round of heats.   They were filmed over 4 days at the 'Dog House' in a beautiful country house in Cheshire.  Ester and Daisy put in a great performance and it was such fun, but in the end they were defeated by Daisy not being physically heavy enough to complete the trick and a lovely boy with a fantastic border collie who won the heat and went through to the next round. 
There have been very few good dog training TV programmes and it was great to be part of one that promoted ethical, science based and effective training methods. 
Sadly Daisy died very young but she shone bright.  Ester has an enduring interest in training and behaviour but these days is more focused on horses than dogs!