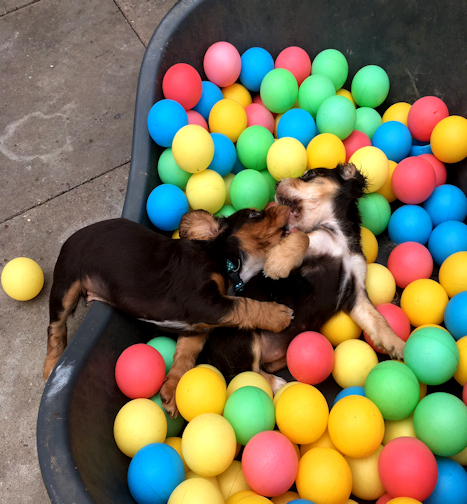 Are some puppy socialisation classes making dogs aggressive?
One wonders why, with so much emphasis on the importance of socialisation, dogs appear to be becoming increasingly aggressive? It's really great that many puppy owners are understanding that they need to socialise their new puppies, however, not all know how to do this.  It's also very positive that so many owners acknowledge that they don't know how socialisation works and are motivated to take their pups to puppy parties and puppy classes. 
Unfortunately, not all puppy parties and classes are as positive for puppies as they could be, and I have seen many dogs whose training or behaviour problems are directly attributable to the class that they took the dog to.
So what is the problem?  Often the least qualified instructors are given the puppies to train since puppies are seen to be easier than adult dogs.  But if a mistake is made with a puppy, there's a much greater likelihood of setting that puppy up for problems later on.  Also, a big emphasis is placed on the importance of play, but most of this is placed on puppies playing with puppies.  As young puppies won't have developed a very strong code of appropriate play they can simply learn to become better fighters.
The common exercise at puppy class/parties of 'pass the puppy', where the puppy is passed around from one owner to another in an attempt to familiarise them with being handled by strangers can have a harmful impact on  nervous puppies, and pass the puppy is likely to make the puppy more nervous of strangers.
Upon reflection, it doesn't make sense to think that socialisation is something that happens once a week for an hour.  Socialisation takes place 24/7 and the majority of dogs that a puppy will meet when out on a walk won't be puppies but adult dogs. A good puppy class should show you how to socialise your pup outside of class at the same time as introducing you and your puppy to reward based training. 
A good puppy class should be an enjoyable experience allowing you to meet cute puppies and share your experiences with other people in the same situation.  Ideally, it will also  teach you how to socialise your puppy for the other 167 hours of the week.  One of the best ways to do this, is to teach owners to 'read' their puppy's body language in order for them to judge whether an interaction is positive for their pup and to allow it to continue or whether to quit while they are ahead and interupt it. 
A good puppy training class or puppy party should place the emphasis on the puppy/owner relationship, because ultimately it is the owner who should be responsible for the puppy's education.  A good puppy (or adult dog) training class will be run by an accredited instructor and the best place to find accredited instructors is on the animal behaviour and training council register www.abtcouncil.org.uk